Ballarat Rural Achiever Awards 2017
The Ballarat Agricultural & Pastoral Society's (BAPS) Youth Committee's annual Ballarat Rural Achiever Awards has been hailed as a major success and a great result for the future of agriculture in the region..
The event, in its ninth year, was well attended with record 18 applications received from a quality field of people passionate about agriculture.
Judy Croagh from Western Plains Pork was the guest speaker for the event with an awe-inspiring speech, giving a wonderful insight into their operation. Many questions and discussions ensured the making for an interesting and informative presentation.
The Judges had a challenging task and were impressed by the achievements, enthusiasm and dedication shown by the finalists. BAPS President and event organizer Kerri Gallagher said she certainly felt the future of agriculture is in safe hands with yet again more hidden talent in the region being uncovered in the 2017 awards. "I am blown away by the amazing people who have entered this year; they are incredible and should all be very proud of their achievement."
The winners of the 2017 awards are listed below
The "Peter Steven's Ballarat & District Agriculture Apprentice of the Year": 19-year-old Dylan Manning from Ballarat who is relatively a newcomer to the agricultural industries undertaking an apprenticeship with the Thomas Family at Ascot. Runner-up was 18-year-old Tynan Haintz from Springbank whom is currently home on the family farm as a fourth-generation potato farmer.
"Natures Cargo Agribusiness Young Achiever of the Year" went to Diana George.  Diana is a 25-year-old agronomist from Dundonnell who grew up on her family's cropping and grazing property in NSW and works for Elders as an agronomist after having undertaken a graduate program. Having won numerous scholarships, championed the Art 4 Ag program and completed a Diploma of Commercial Agronomy, she eventually hopes to return home to the family farm to be the first female manager in four generations.  Runner-up was 23-year-old Brittany Bickford from Rural bank who completed a Bachelor of Agricultural Science degree at Charles Sturt University with an exceptional academic record.
"Next Generation Farmer of the Year": Chris Gallagher is a 27-year-old fourth generation farmer from Waubra.  Chris plays a very active roll on the family mixed farm and has completed his apprenticeship and Diploma of Agriculture (winning the Vice Chancellors Award for Federation University). Chris is also short listed for the Vocational Student of the Year..
"Agricultural Student of the Year Secondary": Congratulations to Emma Dickinson from Ballarat Grammar. Emma who is 18, is passionate about cattle, and is heavily involved in cattle camps, show committees and the BGS Cattle Show Team. Emma intends on using this prize money to attend Charles Sturt University to study Veterinary Science at the end of Year 12 and to assist supporting herself during work placements.   Runner-up was 16-year-old Rebecca Sinclair from Ballarat Clarendon College, Rebecca has a great passion for showing cattle & helped her family establish their Red Angus stud. The award will contribute to helping fund capital towards her own stud.
"Agricultural Student of the Year Tertiary": This well represented section was won by 22-year-old Sophie Murfitt from Nareeb.   Sophie is currently completing a Bachelor of Agriculture/Bachelor of Business via correspondence whilst working fulltime. Although she is not from a farming background Sophie has developed a love of farming from spending time at her partners' family property in Tasmania. She currently sits on the Board of Tasmania Women in Agriculture, and plans to use the prize money towards attending a leadership course relating to women in agriculture. Runner-up was 33-year-old Rhianna Cook from Golden Point, a mature age student who became involved in agriculture after her partner encouraged her to follow her passion and find her vocation. Her passion is animal genetics in both research lab work and practical applications on farm. The award will contribute to helping fund continued learning through short course and seminars on Artificial Insemination and pregnancy testing in livestock.
The new "Davies and Rose Agricultural Producer of the Year" was proudly awarded to Mount Prospect Produce run by Rod and Gabrielle Fraser. Rod is a fifth-generation farmer and in 2012 the couple started specializing in lines of gourmet potatoes, sold directly to retailers. Their potatoes are sent to markets in South Australia, New South Wales and Melbourne, as well as green grocers, cafes and restaurants across Victoria.   The Runner-up was Jacob Heard, who has taken a school assignment to new levels. In 2016, as part of his school agricultural studies Jacob started a paddock to plate business delivering home grown lamb direct to consumers.  Jacob also runs a fine wool Merino enterprise, all whilst completing Year 12.
All entrants received a 12-month membership to the Ballarat Agricultural and Pastoral Society, with winners awarded $500 & the Runners-up received $250 to put towards furthering their future in the rural sector.
The Ballarat Rural Achiever Awards are just one of the many events run by the BAPS Youth Committee with the aim of supporting and developing the next generation of people working in the rural sector.
Thank you also to our very generous sponsors, whose support makes this event possible
Peter Stevens,   Michael & Rosemary Daunt,   Peter & Sue Fraser & John & Liz Molesworth
2020 PBR RODEO
7 March
2020 VICTORIAN SHEEP SHOW & BALLARAT ALPACA SHOW
21 June
2020 BALLARAT SPRING SHOW
13 - 15 November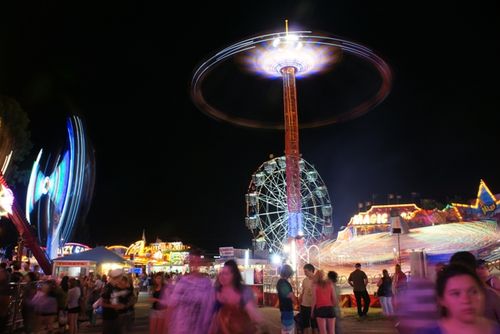 12 Opening Show Dinner
13 - 15 November 2020
Looking for a fun weekend out?  Look no further, the 2020 Ballarat Show is the place to be! With hundreds of attractions.
2020 Victorian Sheep Show & Ballarat Alpaca Show Sale
(Feature Breed TBC)
21st June 2020
The Ballarat Agricultural & Pastoral Society's (BAPS) Youth Committee's annual Ballarat Rural Achiever Awards has been hailed as a major success and a great result for the future of agriculture in the region.